Ge Case Study Harvard
Not a day goes by that you don't read or hear about General Electric (GE). A once great company has fallen from grace. This article will categorize The Good, The Bad, The Ugly and The Unknown with GE going forward and look at some less headline facts and data. This review is similar to a SWOT (Strengths, Weaknesses, Opportunities and Threats) analysis. It will also provide data on one of the smaller, and out of the headlines segment, Renewable Energy.
The market cap is now $135B. By comparison Microsoft (MSFT) is $707B. The outstanding number of GE shares is 8.7B. Institutions own only 57.5% of the outstanding stock. At one time, GE was a darling of large mutual and pension funds. Times have changed. The 52-week range is $15.60-$30.60. We are at the low of the range. Its book value per share is $7.41
GE will definitely be a different company in the future than it is now. It's a complex study and execution to right the ship and provide value to shareholders, society and employees. Let's examine the key issues.
The Good
Analyst and financial reviewers continue to speak highly of the Aviation and Healthcare segments.
Aviation
Aviation is the bright spot. From the 2016 Annual Report: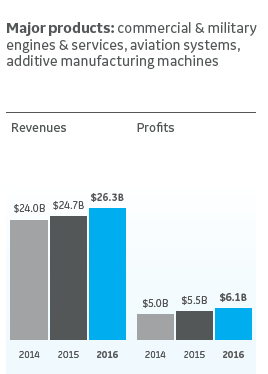 Source: 2016 Annual Report
The largest market share leaders in the jet engine business are:
CFM International (a joint venture between GE and the French company Safran (OTCPK:SAFRF): 34.8%
Pratt & Whitney (Division of United Technologies (NYSE:UTX)): 20.8%
RollsRoyce (OTCPK:RYCEY): 18.5%
GE Aviation: 18.3%
Source:

Thus GE combined with CFM is the market share leader. The worldwide commercial jet engine business is growing.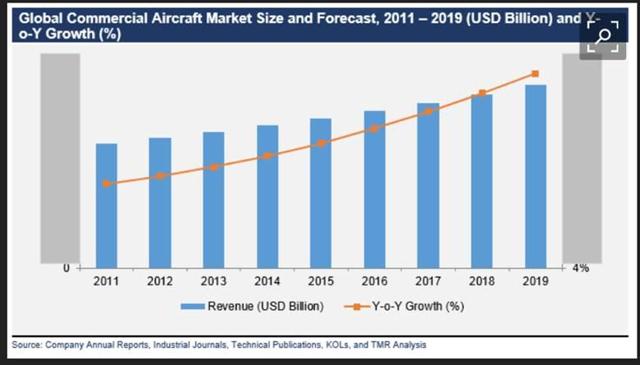 Military engines are also a large and good business for fixed wing and helicopters. The upgrade market is key for the future. That is not a guarantee but real "opportunities."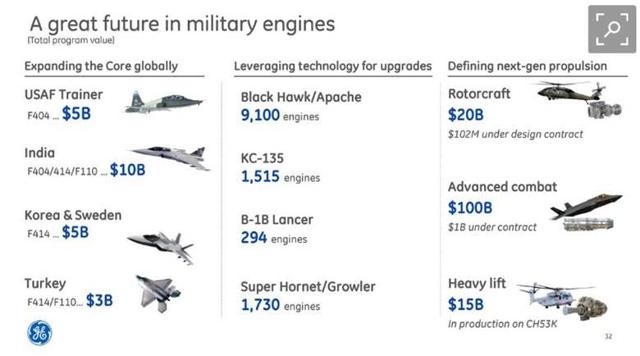 Source: GE Nov. 13 Analyst day Presentation
So both the commercial and military markets are healthy.
Healthcare
Healthcare is another strong GE business.
From the GE 2017 Annual Report: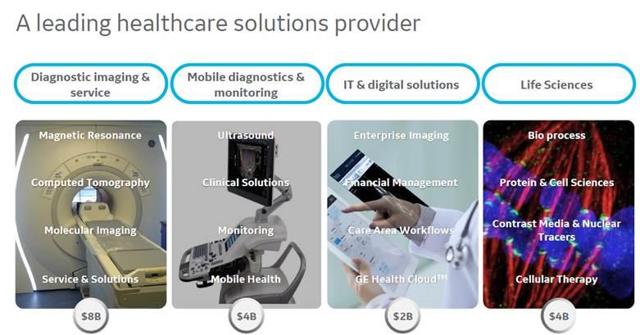 Source: GE Presentation June 1, 2017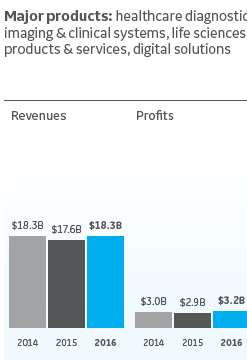 Source: GE 2017 Annual Report
Current CEO John Flannery led the Healthcare business and turned it into a winning segment. The Aviation and Healthcare businesses are in good shape and are projected to be so in the near term.
The Bad
Power Systems
Much has been written about Power Systems, the largest segment at $39B revenue so we wouldn't repeat history.
From the 4Q'17 GE Presentation, January 24, 2018.
"Power market challenging; Power profit miss driven by market, execution, and charges"
And 4Q '17 Operating Profit for Power Systems was off 88% and the entire Industrial segments were off 32%.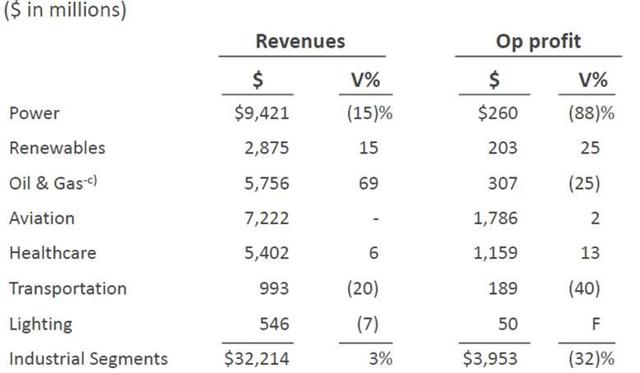 Source: 4Q '17 GE Presentation, January 24, 2018.
In addition, the SEC has opened up an investigation into the Power Systems accounting of long-term service and manufacturing. Many GE turbine and generator service contracts with electric utilities are long term in nature. As is the manufacturing of these turbines/generators, which span multiyear. The investigation apparently is focused on the accounting procedures used to take in revenue and profit on a different basis then receiving cash payments. This practice is not uncommon but the SEC has questioned the accounting process and procedures.
Pension
GE's pension is underfunded to the tune of $31B at the end of 2016. The fund will be increased over time. They will borrow $6B and add to the fund through 2020.
Pension Shortfall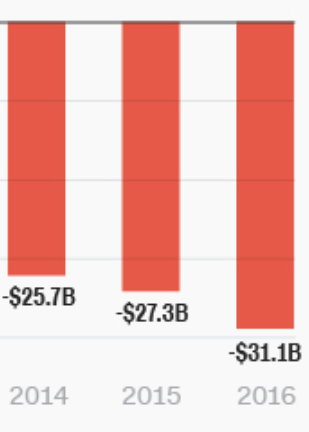 The Ugly
The liability that GE retained after exiting the Long Term Health Care business is probably one of the biggest issues to deal with. It results in a $6.2B charge and a $15B contribution to the capital fund through 2024. In addition, the SEC is investigating the process GE employed to estimate and account for the liability during the exit. From their January 24, 2018 Insurance Update: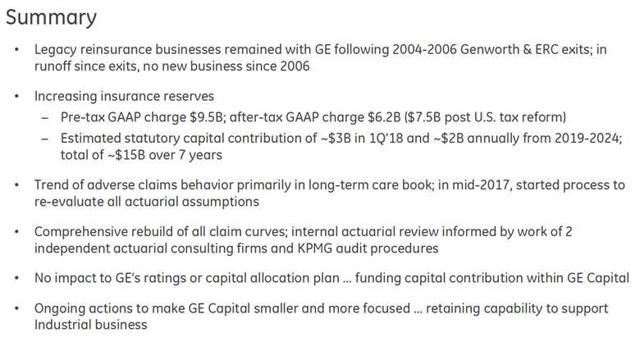 Source: GE Webcast January 16, 2018
The Unknown:
In the January 16 webcast John Flannery, CEO stated:
"Today, I am more convinced than ever that we have substantial underlying strengths and value that have been suppressed in the current context. As a result, we are looking aggressively at the best structure or structures for our portfolio to maximize the potential of our businesses, continue to deliver outstanding products and services to our customers, enhance our ability to provide attractive opportunities for our employees, while maximizing value for our shareholders."
Thus, the biggest unknown going forward is the result of restructuring studies, which he said would be further announced in the spring.
This could take many forms – sale of segments (e.g. locomotive), spin-off of units into a separate public companies, sale of pieces of a segment. There are hundreds if not thousands of GE personnel working the possibilities and alternatives. How to create a structure to unlock the best value for shareholders is not trivial.
Let's look at a business that is the fifth largest behind Power, Aviation, Healthcare and Oil & Gas – Renewable Energy, which is doing OK and assess its relevancy within GE.
Renewable Energy
Renewable Energy is about a $10B-$12B business, slightly less than 10% of GE total annual revenue. In the 4Q '17 Revenue was $2875M of a total $32,214M = 9%. Profit was $203M of a total $3,953M = 5%. Is this a good business for GE? Probably yes, since it is worldwide, involves familiar technology and familiar utility customers. In some locations, the business continues to grow. Headquartered in Paris, a portion of the business and technology came with the Alstom purchase.
The segment consists of three groups – Onshore Wind, Offshore Wind and Hydro.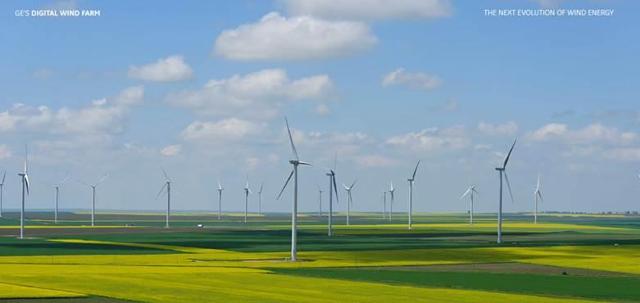 Source: GE Brochure
Windfarms can be digitally interconnected to accumulate data for efficient performance driving GE aftermarket service.
In the wind market, GE has major worldwide competitors: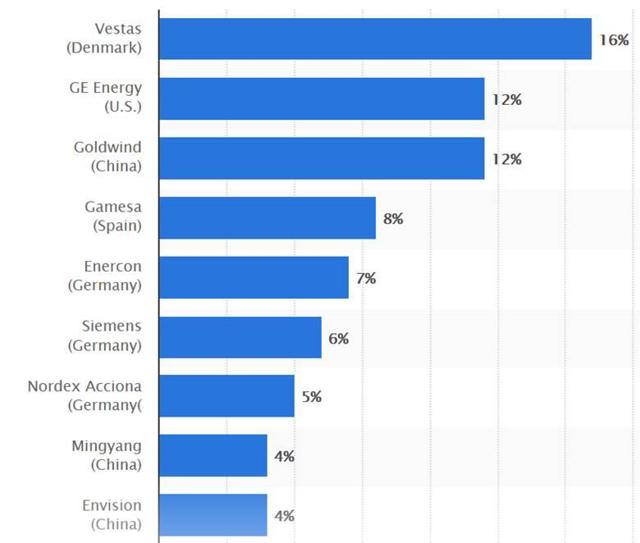 Source: Statista
China and the US lead the installed Megawatt wind power capacity throughout the world: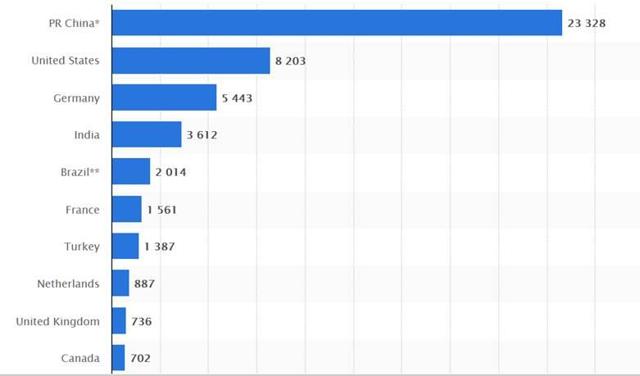 Source: Statista
In 2017:

Source: GE Website
If the Renewable Energy segment were a standalone business, it would be number 278 in the Fortune 500.
The renewable business continues to be strong but, depending upon restructuring, it could remain a smaller, but important, part of the GE business mix.
More Unknowns
There are lots of unknowns brought about by restructuring and other issues.
What will happen to Baker Hughes GE (NYSE:BHGE)?
Will GE remain in the Dow Jones 30 and if they aren't, what effect will that have on the stock?
Will the Digital Industrial business grow as previously advertised? It may. You don't hear much about PRIDEX anymore. But it is overwhelmed by the press focusing on the bad events.
Additive manufacturing, which is in the Aviation segment, will continue to grow but it's a small portion of the overall company - $1B in revenues.
There are lots of synergies between Power and Aviation. Turbines and jet engines are based upon similar technologies. R&D and manufacturing technologies can be cross-utilized. If separated, cost will increase.
Renewable Energy customers are typically electric utilities as is Power. There are synergies between these businesses.
Conclusion
GE has some excellent, world-class businesses hindered by a downturn in the Power business cycle and hindered by major financial liabilities. It could be a Harvard Business School (where Jeff Immelt was trained) case study.
It's fixable but not an easy or short-term fix. The Bad and Ugly are grabbing the headline focus and GE's leadership's attention.
It has considerable overseas cash to use for debts, liabilities, factory modernization or restructuring.
So is GE a good value today? Is it a Value play? Astute financial opinions vary.
Mario Gabelli (GAMCO Investors) made headlines during a CNBC interview when he stated he purchased GE at $16. The number of new shares purchased were 206,644 ($3.3M). The average daily volume of GE is 87M shares traded so this represents .2% of an average day. They now own 2.2M shares. And as he stated, he is not emotionally tied to GE and a split or restructuring may unleash value.
Warren Buffett said he would buy GE "at the right number."
So is there more good than bad? If the Good stays good, if the Bad is in the process of being healed, if the ugly is rectified and if the company restructures into other entities that could all be good. How much time that takes is the biggest unknown.
Disclosure:I/we have no positions in any stocks mentioned, but may initiate a long position in GE over the next 72 hours.
I wrote this article myself, and it expresses my own opinions. I am not receiving compensation for it (other than from Seeking Alpha). I have no business relationship with any company whose stock is mentioned in this article.
About this article:
Expand
Author payment: Seeking Alpha pays for exclusive articles. Payment calculations are based on a combination of coverage area, popularity and quality.
Tagged:Conglomerates
Disagree with this article?Submit your own.
To report a factual error in this article,click here
Case | HBS Case Collection | April 2014 (Revised March 2015)
GE and the Industrial Internet
Karim R. Lakhani, Marco Iansiti and Kerry Herman
CEO Jeff Immelt considers whether GE is moving fast enough on its new Industrial Internet initiative. The undertaking includes building out an Industrial Internet, connecting machines and devices, collecting their data and operations, and providing services to clients based on analytics of this data and information. The case considers the implications of such an initiative across all 6 of GE's business units, and how best and how quickly to execute the strategy. The firm has committed $1b in investment, building out a new software center in California, and a commercial sales function at headquarters to deploy the new products and services.
Keywords: technology; operations management; strategy; big data; Business analysis; corporate strategy; Digital technology; Digital Innovation; general management; general strategy; Global Competitiveness; global strategy; innovation; Innovation and Management; industrial internet; GE; Innovation and Invention; Technology; Air Transportation Industry; Energy Industry; Health Industry; Industrial Products Industry; Information Technology Industry; Manufacturing Industry; Medical Devices and Supplies Industry; Rail Industry; Transportation Industry; Technology Industry; North and Central America; Asia; Europe; Middle East; Latin America;