A Good Hook For An Essay On Skating
Sophia has neat blond plaits and a pink leather satchel. She's a bit shy. She lives in Gorey, Co Wexford, with her mum, her dad and her younger sister, Justina. She does swimming, gymnastics and Irish dancing. She is, to all intents and purposes, a normal Irish nine-year-old.
But Sophia Tkacheva is also a really talented figure skater, which makes her life very different to that of most Irish nine-year-olds. She travels to Belfast every weekend for coaching and practice. When we meet she has just come home from Minnesota, where she was the only child from outside the US to be offered a scholarship to the prestigious skating summer camp at the Shattuck-St Mary's school in Faribault.
Did she have a great time? Sophia nods vigorously, her plaits bobbing. What was the best part? "The best thing about it was that I did lots and lots of ice skating and lots and lots of ice stretching." The coaches were impressed by her programme, which is set to Irish traditional music and features a couple of Irish dance steps, but they helped her to improve it as well.
How many hours a day did she spend on the ice? "I think five." She frowns. "Or six." With all this practice, what did she learn that was new? "I can do all of my double jumps now. And I learned how to do a split jump. And loads and loads of other things." How hard is it to do a double jump? "Hard enough," she says.
Sophia was born in Dublin. Her father, Evgeny Tkachev, is Russian; her mother, Olga Harelik, is from Belarus. When Sophia was five, her dad was temporarily transferred back to Moscow for work, and that's when she took up ice skating. "We were thinking, what activities could she do?" Olga explains. "There were three ice rinks within a 20-minute drive of where we lived, so we thought we would give it a try."
Does Sophia remember her first day on the ice? The plaits bob. "It was, like, scary because I couldn't skate at all," she says. "I was always falling and I had a helmet."
For those of us who only ever see it on the telly during the Winter Olympics, figure skating conjures up visions of bodies flying through the air in gravity-defying leaps and spins, executed with apparent ease. The reality is grittier. Ice skating is hard work; practice sessions leave Sophia wet from the ice and sweaty. "She will be taking off all her clothes," says Olga, flinging her arms out with a laugh as she imitates her exasperated daughter peeling off layer after layer of clothing.
Then there are the falls. "Her left elbow can get horribly bruised," Olga says. "When she does jumps she falls on her left side most of the time."
Sophia's plaits are bobbing again. "Falls and tears are terrible," she says. "It really hurts."
Biggest problem
By far the biggest problem in the life of an Irish ice skater, however, is simply the lack of regular access to ice. To make progress in skating demands a jaw-dropping level of commitment not just from Sophia, but from her entire family. "Friday after school we jump in the car and go to Belfast," Olga says. "We stay in a small B&B near the rink. To get the full ice you have to start very early. At 10am the public skating starts, so we have to be on the ice at 6.45am."
They're both smiling at the very idea of all that ice. "From 6.15am until 10am we have the ice on our own," says Olga. "Just Sophia and her coach, Joanne Ulyett. Nobody else."
"And Justina," Sophia reminds her.
Her sister skates as well? "Yes," says Sophia. "She's a bit lazy at it," she adds.
"She's too small to practise like you do," Olga says gently. But Sophia isn't having that; the plaits are shaking indignantly from side to side. "There's a girl that is five years old, and she can do an axel. I saw her do it," she says.
This is the spirit that, in just over three years, has taken Sophia from beginner to member of the Irish development squad and winner of the Novice B category at last year's national championships. "There are times in Belfast when I will say, 'Let's go home'," Olga says. "And she will say, 'No, I want to do this spin again. I want to try this jump again.' She wants to skate because she knows that there will be no more skating for another week."
Of course, Sophia isn't the only Irish ice skater in this predicament. "Three of our national team have actually left the country to train," says Karen O'Sullivan, president of the Ice Skating Association of Ireland. Figure skating, she points out, is an "early specialisation sport". For a child as gifted as Sophia, regular coaching and practice at this young age is vital to her development.
Olga knows this all too well. When she and her husband realised the almost-six-year-old Sophia had an aptitude and brought her to a Russian skating school, they were told at first that it was too late. "She was too old. They didn't want to accept her."
Most of the business of the Ice Skating Association of Ireland is with seasonal learn-to-skate programmes for beginners around the country. Plans are afoot to get a permanent – or even semi-permanent – rink for Dublin. They're well aware, O'Sullivan says, that funds are short and that many similar minority sports are crying out for facilities. But with other sports, you can at least do something. You can't ice skate without ice.
Not complaining
Sophia and her family aren't complaining. Or not exactly. They love living in Ireland and especially in Gorey, which, Olga observes, is a terrific place to bring up children. Sophia attends the Educate Together primary school.
Olga cites the generosity that saw a Co Wicklow company, Sheep Wool Insulation in Rathdrum, sponsor Sophia's trip to Minsk last October. "When we came back to Ireland last summer we were thinking that we would look for something else for Sophia. We were quite relaxed about the fact that we may not go any further with the skating. But then Sophia was assigned to go and represent Ireland in Minsk, and we went. And, well, the more you get involved, the harder it is to give up."
How they keep going, heaven only knows. The weekly trips to Belfast are exhausting and expensive. "To be honest, sometimes I get these blue days when I think, why are we doing it?" says Olga.
Sophia is already dreaming of a return to Minnesota next summer, which means they have to start planning – financially and every other way – now. Meanwhile, they're heading to Minsk, where Olga's mother lives, for the summer. Will Sophia be skating every day there? The blue eyes are dancing in her head. The plaits are going crazy. It's her ideal summer holiday. She can't wait.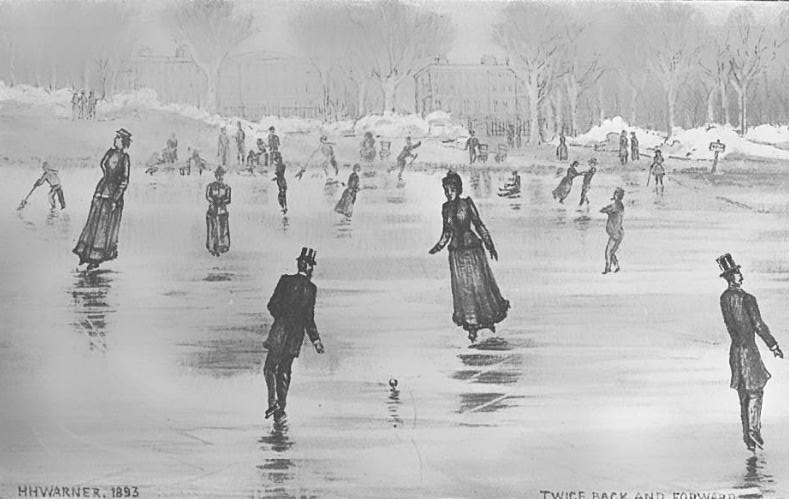 Frontispiece from A System of Figure-Skating
If you're like me, the Olympics have borne in you one mighty, overriding desire: to become a strapping world-class professional figure-skater. Well, we're in luck, every one of us. Thanks to the glut of teaching materials available in the public domain, dazzling one's peers in the rink and taking home the gold has never been easier.
To start, consult an invaluable volume from 1897: T. Maxwell Witham's A System of Figure-Skating: Being the Theory and Practice of the Art as Developed in England, with a Glance at its Origin and History. In sporting matters, Witham was no slouch—the title page notes that he was a "Member of The Skating Club." Which skating club, you ask? Well, let me answer your question with a question: How many skating clubs do you belong to?
With verve and good humor, A System of Figure-Skating will teach you such cherished and essential maneuvers as "the Jagendorf dance," "the Mercury scud," "the spread-eagle grape vine," "the sideways attitude of edges," and—of course—the "United Shamrock." Confused? You needn't be. The System offers detailed instructions every step of the way. Here's an edifying bit about how to conduct the "outside edge forwards": "We have also to bring into the more important action the hitherto unemployed leg, which must be gently and evenly swung round the employed one in such a manner that it arrives exactly at the proper time and angle to be put down, and so become the traveling one."
See? You'll be getting the hang of things in no time!
If all else fails, the System is meticulously illustrated—its dozens of diagrams and charts make even complicated performances seem rudimentary. Even a trained dog could follow these instructions: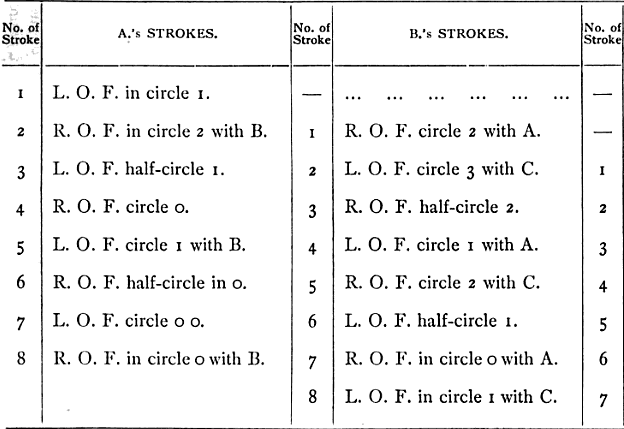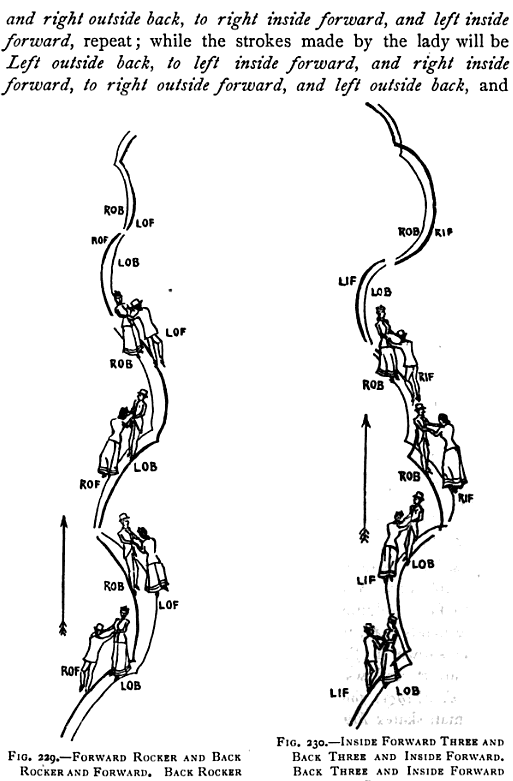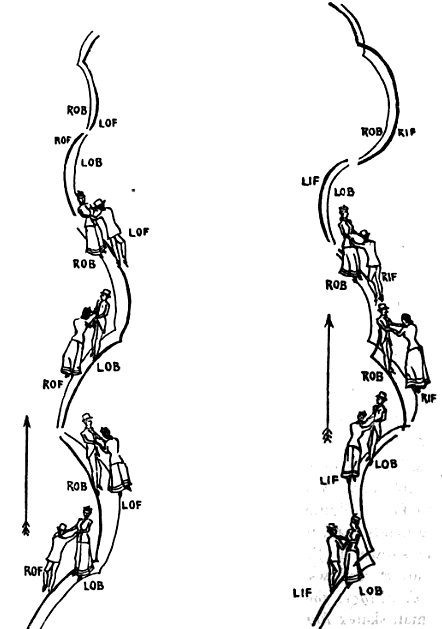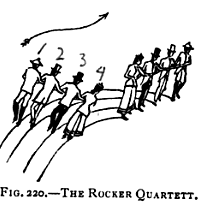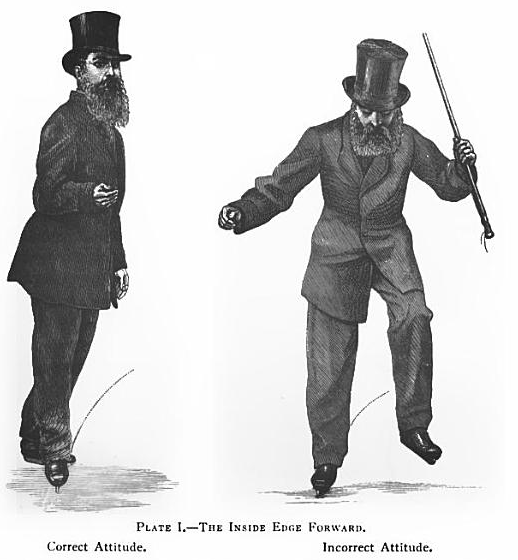 Oh, now I get it!
The System also includes an expansive history of the sport, which begins, "Geologists tell us that the earth was formed under great heat, and that it is gradually cooling down—decidedly a cheering prospect for future skaters." And lest you think that the Olympic village is beyond your aged reach, Witham includes a stirring aside: "A relation of mine, who did not put on a pair of skates until he was thirty years of age, became, by dint of perseverance, a very fair figure-skater."
Inspiring.